News
PRESIDENT SERZH SARGSYAN TAKES PART IN EPP SUMMIT IN BRUSSELS
18.12.2014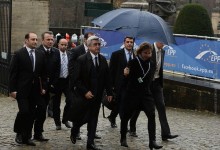 President Serzh Sargsyan, who has made a working visit to Brussels, today took part in the summit of the European People's Party (EPP) which was held in extended format. The preparatory works of the European Council meetings to be held from 18 to 19 December, EPP policy and programmatic issues, the political situation in EU member countries and positions of EPP member parties were discussed. The President of the European Council, Donald Tusk, and the President of the European Commission, Jean-Claude Juncker made final reports.
Following the summit, the RA President held a meeting with EPP President Joseph Daul. The interlocutors agreed that such meetings provide a good opportunity to exchange views on strengthening of inter-party ties, discuss the prospects of developing Armenia-EU relations, as well as to reflect upon the present challenges and issues.
The Armenian President reiterated Armenia's readiness and interest in continuing cooperation with the EPP. The President noted that the European Union has been and continues to be one of Armenia's important partners.
At the meeting, issues pertaining to setting a new agenda for cooperation with the EU were discussed. The interlocutors also touched upon matters concerning further development of cooperation between the EPP and the Republican Party of Armenia, including within the framework of various inter-parliamentary bodies.
Concluding the working visit to the Kingdom of Belgium, the delegation headed by President Serzh Sargsyan will return to Yerevan this evening.