News
National Assembly Continues the Debates on Joining the Treaty of the Eurasian Economic Union
03.12.2014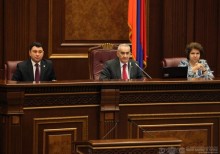 At December 3 the parliament continued debating the treaty "On Joining the Republic of Armenia the Treaty of May 29, 2014 on the 'Eurasian Economic Union,'" signed in Minsk on October 10, 2014.
The NA deputies Nikol Pashinyan, Alexander Arzumanyan, Tevan Poghosyan, Mher Shahgeldyan, Artak Davtyan, Hayk Babukhanyan, Levon Dokholyan, Hrant Bagratyan, Khachatur Kokobelyan, Khosrov Harutyunyan, Artashes Geghamyan, Artsvik Minasyan, Margarit Yesayan exchanged thoughts on the treaty under debate.
The NA Deputy Speaker Eduard Sharmazanov delivered an extraordinary speech. He has noted that the issue under debate is important for the future development of our state and society, hence, the viewpoints and emotional assessments voicing in the parliament are expected and natural. In Eduard Sharmazanov's opinion, membership to any union cannot have only positive consequences, and the country itself studies possible positive and negative developments. The NA Deputy Speaker has agreed with Alexander Arzumanyan's observation that the country that puts aside the freedom does not deserve either freedom or security and has added: "But we have not put aside the freedom, on the contrary, we sacredly keep our freedom and independence." Summing up his speech Eduard Sharmazanov has noted that the decision of the accession to the EEU is conditioned by the reinforcement of independence, security of Armenia, as well as by the economic and political strengthening of the RA and Artsakh.
The debates on the treaty will continue at December 4 NA sitting.
At the sitting the deputies considered the interpellation made by the Rule of Law Party, which presented Hovhannes Margaryan.
The interpellation related to the process of the USSR deposit compensation.
The RA Minister of Labor and Social Affairs Artem Asatryan mentioned the number of peoples who received the compensation. The Minister has also informed the MPs that 1200 depositors will receive compensation by the end of the year.
The last hour of the sitting, by the established order of the NA Rules of Procedure the RA Prime Minister and the members of the government answered the deputies' questions.