News
Joint Press Conference of the RA NA President and the President of the House of Representatives of Cyprus
20.11.2014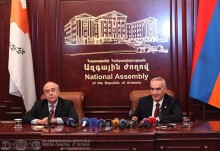 During the joint press conference held on November 20 the RA NA President Galust Sahakyan and the President of the House of Representatives of the Republic of Cyprus Yiannakis Omirou summed up the visit of the delegation of Cyprus to Armenia.
Touching upon the visit of the delegation led by Yiannakis Omirou numerous issues of bilateral interest were discussed, an agreement of supporting each other at the level of parliamentary delegations in the international platforms was reached. In the RA NA President's word, in the course of the meeting they have referred to the events dedicated to the Centennial of the Armenian Genocide. Galust Sahakyan has highly assessed the initiative of the member of the Cypriot Delegation Vardkes Mahdessian to release an Armenian-Cypriot stamp on the theme of the Armenian Genocide in 2015 with the picture of Melgonian educational institution.
Highlighting his visit to the RA Yiannakis Omirou has noted that the Armenian and Cypriot peoples are related to each other with inseparable links and they have together passed through many troubles. Talking about the situation in Cyprus and the Turkey's pursued policy he has mentioned that Cyprus has stopped the negotiations.
The President of the House of Representatives of the Republic of Cyprus has also touched upon the pro-Armenian activity of the Armenian community of Cyprus and the organization of the events dedicated to the Armenian Genocide. Thanking the RA NA President, Yiannakis Omirou has expressed hope that this visit will have a positive role in deepening of the relations of the two peoples.
Afterwards Galust Sahakyan and Yiannakis Omirou answered the questions concerning the journalists.