News
PM Meets with President of Cyprus House of Representatives
19.11.2014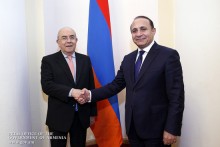 Prime Minister Hovik Abrahamyan received a delegation led by Cyprus House of Representatives Speaker Mr Yiannakis L. Omirou.
The Prime Minister noted that Armenia and Cyprus enjoy deeply-rooted ties of friendship that can be promoted and strengthened through reciprocated high-level visits.
"Our two peoples are connected to each other with centuries-old ties, which provide a solid foundation for the furtherance of interstate relations, trade exchanges, military and economic cooperation," the Premier said.
Appreciative of both Armenia-Cyprus bilateral ties and multilateral cooperation, Yiannakis Omirou described them as dynamically developing and went on to underscore that they are largely supported by the Armenian community of Cyprus.
Hovik Abrahamyan thanked the government of Cyprus for thoughtfulness and warm attitude to the Armenian community.
Pleased with the ongoing high-level political dialogue between the two nations, the interlocutors highlighted the importance of trade and economic cooperation. In this context, the Prime Minister of Armenia stressed the need to boost contacts between the respective business circles in order to reveal the potential of economic cooperation and outline new areas for interaction.
The two sides expressed satisfaction at the fact that Armenia and Cyprus have always supported each other abiding by a balanced position with regard to the Nagorno-Karabakh conflict and the Cyprus issue. They reaffirmed their commitment to a peaceful settlement based on the principles and norms of the international law.
Concerning the international acknowledgement of the Armenian Genocide, Hovik Abrahamyan and Yiannakis Omirou referred to those commemoration and remembrance events due in Armenia and Cyprus within the framework of the upcoming 100th anniversary of the Genocide to be attended by official delegations from both Armenia and Cyprus.