News
National Assembly Continues the Budgetary Debates
12.11.2014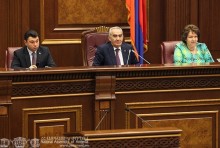 On November 12 the parliament continued the work of the four-day sittings. As a result of the organized voting, the RA NA draft decision "On the Concepts of the Military-Political Provisions of Providing Security of Nagorno Karabakh and the Republic of Armenia" authored by the NA deputy Zaruhi Postanjyan, was not passed.
Then the parliament continued debating the RA draft law "On the RA State Budget for 2015."
In his co-report the Chairman of the RA NA Standing Committee on Defense, National Security and Internal Affairs Koryun Nahapetyan presented the position of the Committee led by him on the expenditures containing state and office secret and noted that they were substantial and legal.
Taking the advantage of the opportunity given by the law "NA Rules of Procedure" the members of the RA Government - the RA Minister of Labor and Social Affairs Artem Asatryan, the RA Ministry of Energy and Natural Resources Yervand Zakharyan, the RA Minister of Justice Hovhannes Manukyan and the RA Minister of Agriculture Sergo Karapetyan also delivered extraordinary speeches.
The NA deputies Stepan Demirchyan, Hakob Hakobyan, Hrant Bagratyan, Mikayel Melkumyan, Hovhannes Margaryan, Vahan Babayan, Tevan Poghosyan and Mher Shahgeldyan gave speeches on the draft budget.
The debate of the issue will resume at tomorrow's sitting of the National Assembly.
By the established order of the RA NA Rules of Procedure at the Wednesday last sitting the members of the Government answered the deputies' questions.