News
NEWLY-APPOINTED BELGIAN AMBASSADOR TO ARMENIA PRESENTS HIS CREDENTIALS TO PRESIDENT
31.10.2014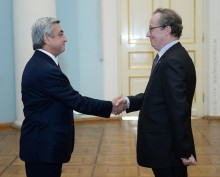 The newly-appointed Ambassador Extraordinary and Plenipotentiary of the Kingdom of Belgium to the Republic of Armenia Alex Van Meuwen today presented his credentials to President Serzh Sargsyan.
The President congratulated Alex Van Meuwen on the start of his diplomatic mission in our country and wished him success. Serzh Sargsyan also congratulated the ambassador on the formation of a coalition government in Belgium and appointment of a prime minister, expressing the hope that under the leadership of the prime minister the government will do its best to strengthen Belgium's international prestige and make the country more prosperous.
At the meeting the interlocutors attached great weight to reinforcement of interstate relations between Armenia and Belgium and further promotion of full-fledged cooperation. The Armenian President underlined that aside from bilateral relations, Armenia also places great importance to cooperation with Belgium within the framework of European organizations. In that context, prospects of Armenia-European Union relations were touched upon.
Ambassador Alex Van Meuwen assured that during his tenure he will put every effort into further strengthening and deepening bilateral ties.