News
Taron Margaryan took part in the solemn meeting dedicated to the Day of the Workers of the RA Emergency Situations
05.09.2014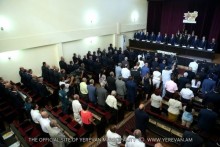 The solemn meeting dedicated to the Day of the RA ES Workers took place in the Assembly Hall of the RA Ministry of Emergency Situations. The Ra Prime Minister Hovik Abrahamyan, Yerevan Mayor Taron Margaryan other officials and AIN workers and other guests were present at the event. Congratulating the employees of the system on the professional holiday Yerevan Mayor Taron Margaryan stressed that the RA Ministry of Emergency Situations is a successful structure and it is going ahead with confidence: "23 years ago when the system was just being formed event optimists couldn't imagine that in two decades this structure would become so developed that its achievements would be fixed not only in Armenia but throughout the world. Being formed as a rapid response unit today you have become a powerful structure with thousands of employees the main task of which is rescue activities as well as showing appropriate professional aid to the populations during emergency situations. It should be noted that in this or that situation our residents rightly rely on you first and I am sure that this is the highest appreciation for you. It's certainly not easy to deserve people's trust but it's even more difficult to keep the confidence. You don't feel satisfied with your achievements and it guarantees that you will not lose the achieved confidence", stressed the Mayor.
Highly appreciating the professionalism of the ES employees Taron Margaryan attached importance to the cooperation of the RA ES with the Municipality of Yerevan. "Carrying out your important and often dangerous activities you contribute greatly to the development of our country and our capital. And due to trainings and other projects carried out regularly in teamwork with the Municipality of Yerevan you promote the awareness increase of our population which in its turn keeps us feeling safer in case of possible disasters. Dear rescuers, employees of the system of emergency situations, I wish you strong health and happiness. And I wish you to use all your professional skills and potential only in training and during alarms of instruction", said the Mayor.
For the big contribution, active position in emergency situations prevention and decreasing of possible consequences, Yerevan Mayor Taron Margarya awarded the RA Emergency Situations Minister Armen Yeritsyan with the Gold medal of Yerevan Mayor. The head of Yerevan Department of Rescue Service of the RA ES Mushegh Ghazaryan was also awarded with Yerevan Mayor's Gold medal. The director of the RA Es Rescue Service Sergey Azaryan and the Chief Advisor to the RA Minister of ES Onik Avanesyan were awarded with the medal "Honorary Rescuer of Yerevan for the activities aimed at the security of Yerevan population. About 50 employees of the system got the thanksgiving and honorary diplomas of the Mayor of Yerevan.