News
NA Deputy Speaker Met with Young Diplomats
15.07.2014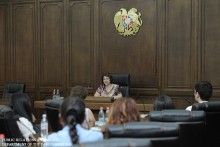 On July 15 in the framework of Academic and Practical School "Young Diplomacy 2014" project initiated by the International Public Organization of Humanitarian Development /IPOHD/ the NA Speaker Hermine Naghdalyan met with PhD and other students of higher educational institutions of the Republic of Armenia, who were interested in politics, international affairs and diplomacy.
Welcoming the young diplomats in the Parliament, Mrs. Naghdalyan firstly highlighted the participants' willingness to continue education, advancing the acquired knowledge, noting at the same time that the optimal model in the society is the excercise of intellectual abilities parallel to family formation, which is already embedded in our youth's consciousness. According to the NA Deputy Speaker, it is important for the country when each generation comprises in itself the principle of continuity, passing to the new generation the goals and tendencies of the previous one.
Touching upon the foreign policy priorities, Hermine Naghdalyan directed the young diplomats' attention to the importance of economic factor in politics, when economic interests are embedded in each political process, which superpowers led by and as a result of which politics is shaped globally.
In her capacity as Head of the RA NA Delegation to the PACE, Hermine Naghdalyan also introduced Armenian delegation activities and recently implemented work, mainly underscoring the situation in Azerbaijan, where mass violations of human rights, freedom of the press occur, the undertaking of voicing and uncovering which the Armenian delegation was busy with during the PACE summer session.
At the meeting the NA Deputy Speaker kindly answered also participants' questions, including those pertaining to integration processes in the country. Mrs. Naghdalyan considered expedient to remind that even at the time when Armenia was actively engaged in EU Association Agreements processes the relations with CIS, CSTO and in other formats were simultaneously developing, in this regard blaming Armenian authorities in a an abrupt turn is simply an unjust inconsistency. According to the NA Deputy Speaker the same situation we have now: intensively being engaged in Eurasian integration processes, Armenia doesn't shut the doors behind the European integration format, considering country's priority the principle of gaining maximum benefits in joining each economic structure. In this process H. Naghdalyan highlighted also public hearings as an important diplomacy both during and after negotiations.
At the end of the meeting the participants expressed their satisfaction to Mrs. Naghdalyan for the broad and objective observations, at the same time spotlighting the presence of honest figures in the political field, which they witnessed at the meeting.