News
As a result of the survey carried out by the International Media Holding Taron Margaryan was recognized the best mayor of the year
31.01.2014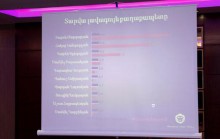 As a result of the Internet and personal survey carried out by "International Media Holding" Yerevan Mayor Taron Margaryan has been recognized the best mayor of the year.
The First Deputy Mayor of Yerevan Kamo Areyan was present at the solemn ceremony of awarding and was handed in the prize of the Mayor of Yerevan.
Expressing gratitude on behalf of the Mayor for the award Kamo Areyan stressed that the prize really makes feel more responsible.
"The prize has its special important symbol as it expresses the appreciation of the citizens. Besides, it certainly makes feel more obliged as a body of local self-government to do more for the sake of the capital and its residents", said Kamo Areyan.
Prizes were also given in a number of other nominations. The founder and the president of "International Media Holding" Arman Vardanyan congratulating the awardees stressed that those who was considered to be a leader in various fields were chosen for their work carried out successfully within the previous year and the public expressed their appreciation.