News
National Assembly Continues the work of the 4-day sitting
10.09.2013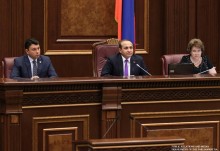 On September 10 the National Assembly continued the work of the 4-day sitting. Before passing on to discussions of draft laws deputies by voting adopted the bills considered on the previous sitting.
The NA MPs considered amendments of the RA laws "On Income Tax", "On Medical Assistance and Services", "On Narcotic Drugs and Psychotropic Substances", "On Reproductive Health and Reproductive Rights", RA Code of Administrative Offences, etc., which presented respectively RA Minister of Health D. Dumanyan, RA Minister of Nature Protection A. Harutyunyan, the Chair of NA Standing Committee on Healthcare, Maternity and Childhood A. Babloyan, the Chairman of the RA Central Electoral Commission T. Mukuchyan, NA deputies M. Minasyan, L. Khachatryan.
According to the abovementioned drafts and amendments positive conclusions were made in the RA laws by the corresponding Committees.
Debates on particular projects will continue on September 11.
The last hour of the meeting was devoted to deputies' statements , in accordance with the NA Rules of Procedure.