News
RPA Welcome Address at the international forum "Role of Public Organizations in formation of Eurasian Union"
28.04.2012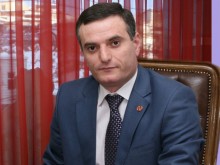 Dear Colleagues, Participants of the forum, Honorable Guests!
Prior to everything let me on behalf of the Republican Party of Armenia and myself welcome you here in Armenia and express my sincere gratitude for taking the opportunity of visiting this international forum, which is so important to all of us.
I would like to express special gratitude to the "Eurasia" cooperation fund and the "Armenian-Russian Union of non- governmental organizations" for organizing and hosting the forum, as well as to all those people who contributed to this project.
I would like to state that your presence at this forum is the key to mutual understanding and fruitful cooperation for the benefit of common goals and achievements. I am convinced that the forum will be held in extremely warm and friendly atmosphere, and that your professionalism and understanding of pressing problems will help to successfully address many issues which are at stake for our countries and the future Eurasian Union.
Armenia has long been perceived as a major actor in international relations, while remaining strictly committed to strategic relationship with Russia. In complex maelstrom of contemporary foreign policy we remain exceptionally balanced in our relations with the West and with the major regional players.
The idea of Eurasian Union, which was recently discussed by the newly elected president of the Russian Federation, is to create a powerful supra-national union, capable of becoming a self-sufficient market and one of the geopolitical "poles" of the contemporary world, and which would effectively bind Europe and the dynamic Asia-Pacific region. We need advanced basic approaches to form an entirely new, efficient and advantageous for all participants integration format on the post-Soviet arena.
In my opinion, the new union should be initially established as a competitive global economic association. It should become a connecting bridge between the Euro-Atlantic and Asian components of economic development, and Eurasian integration should go solely through evolutionary and voluntary rout. After all, the Eurasian Union aims at bringing benefits and advantages not only to entrepreneurs, but also to its citizens. That is why the formation of the union is only possible on the basis of broad public support for which supra-national structures and institutions should be created.
Hence the role of NGOs in the formation of the Eurasian Union is undisputed. Civil society organizations are an integral part of any democratic society. At present stage of social and political development of our countries, NGOs are a kind of connecting link between political and civil societies. That's their stabilizing integration role in the society. With the spread of democracy and the rise of political culture a trend to a variety of public associations in the social and political life and their influence in specific historical events, such as the creation of the Eurasian Union is growing.
Now the concept of creating Eurasian Union is under skeptics' test. Many are quite critical about creating a new interstate union, believing that this plan is too global, and therefore it's difficult to implement. Indeed integration path is hard and thorny. But we are convinced that based on past experience, high professionalism of all participants of this complex but vital process, we are capable of building a new integration project, which will meet the needs and goals of all member states.
Dear Colleagues, once again, on behalf of the Republican Party of Armenia and myself, I wish success and productive work in the forum to all of us.
Thank you for your attention!
Artak Zakarian
RA NA Member, member of the Committee on Science, Education, Culture, Youth and Sports, member of RPA faction