President
Address by the Third President of Armenia Serzh Sargsyan on the occasion of the Republic of Artsakh Day
02.09.2023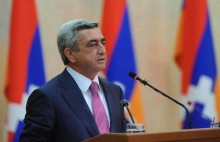 Strongly anchored in each and every international norm, independence of Artsakh today is going through unimaginably hard times: It's been eight months that besieged, subject to multiple scarcities Artsakh is withstanding with dignity, knowing all too well that today the struggle for independence has the same goal as 32 years ago; the aggressor and genocidal enemy is the same as three decades ago.
As I have mentioned on numerous occasions, it is necessary first of all to get rid of the anti-national authorities and in this extremely difficult but not desperate situation to defend Fatherland through the joint efforts of the entire Armenian nation, carrying out at the same time essential work at the diplomatic front.
Indifference, despondency, conformism, and irresoluteness have no place in the struggle for independence. Determination, courage, will power, and dignity – these are unfailing allies of the struggle which must be relied upon.