President
Serzh Sargsyan expressed condolences on the demise of Richard G. Hovhannisian
11.07.2023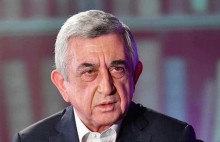 The Third President of Armenia Serzh Sargsyan sent a letter of condolences to the Hovhannisian family on the demise of the renowned historian, foreign member of the RA Academy of Science Richard G. Hovhannisian.
"At this momentous time of loss, I share your grief and express my support to your family and friends, wish you tenacity and perseverance.
Let God bless the soul of Richard Hovhannisian and send solace and consolation to those who mourn his death," Serzh Sargsyan wrote in his letter of condolences.