Analysis
Azerbaijan concedes to Armenia in regard to preparedness of armed forces
09.03.2012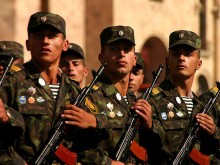 International Institute for Strategic Studies (IISS), London, has posted "Military Balance 2012" report, which also refers to the current state of the armed forces of Armenia and Azerbaijan.
British experts stress the Russian influence in the armed forces of Armenia, and simultaneously state that Armenian servicemen have a serious experience in the cooperation with NATO and in international peaceful missions.
"Due to strained relations with Azerbaijan the armed forces of Armenia have mainly focused on the defense of the country's territory. Though the Armenian military doctrine is mainly influenced by Russian way of thinking, the support of the military missions showed outside the country, including that of the international coalition in Afghanistan, promotes that Armenian servicemen take lessons from the cooperation with their partners as well," the report states.
The document mentions that the air forces of Armenia mainly deal with settlement of technical issues and the defense of the air area is implemented by the Military Aircraft of Russia by means of the air base located in the territory of Armenia.
Referring to the "achievements" of the Azerbaijani armed forces of the recent years, it is underlined that despite the continuous growth of the military expenses, the Azerbaijani army has obtained new kinds of up-to-date weapons, like "C-300" systems, but all those achievements do not affect the increase of preparedness of the Azerbaijani armed forces.
According to the experts, though the Azerbaijani army has strong ties with the Turkish army, here there are still numerous issues.